NEW ON OMANA.NET...
TALK: Share opinions with other readers using the new Comments feature — now available for all articles.
SEE: New articles have related YouTube videos & clickable Pictures.
TASTE: Send in your recipes for the brand new Recipes section or try others' & give your 5-Idli™ rating.
FIND: You can now Search the site — use the search... box at the top of any page.




Malayalam Translation




INDIA FROM NEWS

(offline)


LATEST EDITION
Wednesday, May 27, 2015
Remembering Jawaharlal Nehru on this day, 27 May 2015.

The "Light went out in India", 51 years ago on 27 May 1964, the day Jawaharlal Nehru, India's first Prime Minister bid farewell!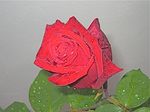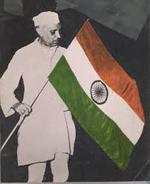 Today we pay respect to the great man who securely placed India on the side of democracy and freedom! He took office as India's first Prime Minister on 15 August 1947 and delivered his famous inaugural speech 'Tryst with Destiny': "Long years ago we made a tryst with destiny, and now the time comes when we shall redeem our pledge, not wholly or in full measure, but very substantially. At the stroke of the midnight hour, when the world sleeps, India will awake to life and freedom. A moment comes, which comes but rarely in history, when we step out from the old to the new, when an age ends, and when the soul of a nation, long suppressed, finds utterance. It is fitting that at this solemn moment we take the pledge of dedication to the service of India and her people and to the still larger cause of humanity ....". That 'Tryst with Destiny' still gives one a sense of pride as we think of the man who is loved by millions around the world!


The Nation wept as India's first Prime Minister's sudden demise was announced 51 years ago on the morning of 27th May --Politicians wept openly and more than 250,000 people including children filed past to pay respect to their 'Chaacha Nehru'. I remember crying hearing the news and everyone who heard the news were in tears too, so much was their love for their beloved Nehru, their first Prime Minister! He was lovingly called 'Chaacha Nehru', who always had a serene smile on his face and a rose in the button hole of his jacket – and the rose became the favourite flower of many in India, and I still have a soft corner for the rose and a special place in my garden too!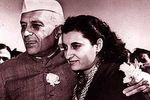 Fifty one years have passed since his passing and we still think of Jawaharlal Nehru, our first Prime Minister, with abundance of love and respect, which will continue for eternity! May your gentle soul rest in peace with our love and respect!

more from the Corner archive…

FEATURED ARTICLE FROM THE ARCHIVES
Errol Brown, the Leading Vocalist of 'Hot Chocolate' Bids Farewell at 71
| | |
| --- | --- |
| by Elizabeth Menon | |
Errol Brown, the Leading Vocalist of 'Hot Chocolate' Bids Farewell at 71 (12.11.1943-6.5.2015)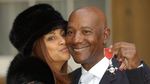 (Errol Brown with his wife Ginette at Buckingham Palace, receiving the MBE)

Errol Brown, the front man of the soul band, 'Hot Chocolate' dies at his home in the Bahamas at the age of 71, due to liver cancer. He was a great singer and a Lyricist, and a Gentleman, most of all! 'Hot chocolate' was synonym to the singer since 1970, so much that most people did not know that his real name was Errol Brown, the one with the silky smooth soul sound! He formed the band 'Hot Chocolate' in 1969 with his friend Tony Wilson and 'Love is life' was released in 1970. Prior to this he did a Reggae version of John Lennon's 'Give Peace a chance' with Lennon's permission. Not many people know that 'Hot Chocolate' is the only group that had consecutive hits for 15 years from 1970 to 1985! His first number one in the chart was 'So You Win Again', released in 1977, followed by 'Emma', 'Brother Louie, and then of course, 'You Sexy Thing', 'It started with a kiss' and many more, till he left the band in 1985. 'You sexy thing' would have been the number one in the UK charts in 1975, but for the most scintillating song of all times, 'Bohemian Rhapsody' by Queen that exploded the sound-waves on 29 November 1975 and remained there for many weeks! It was the silky smoothness in his voice that allowed him to get away with words like 'You Sexy Thing' in the 70s, and people still love the song with the same vigour!

Errol Brown was born in Kingston in Jamaica and moved to Britain with his mother when he was 12 years. His gentle soul sound hit the airwaves for 15 years, producing hits every year. The band 'Hot Chocolate' played for Prince Charles and Lady Diana Spencer at Buckingham Palace at the pre-wedding celebration! After leaving the band, he had successful solo tour in the UK in 1990, 1993 and then the farewell tour in 2009. The Queen honoured him with 'Member of the Order of the British Empire (MBE) in 2003 and he was also given the 'Ivor Novello award' in 2004 for his outstanding contribution to the British Music Industry!




He had many hits, which are loved by al those who love music, but 'It started with a kiss' and 'You sexy thing' were my favourites and every time I had a cup of hot chocolate, I could almost hear his silky-smooth voice that enhanced the taste of my hot chocolate and I am sure that will continue! He is survived by his wife, Ginette and two daughters, Colette and Leonie. He left his fans and the world with these words, "I wish you love, peace and happiness in your lives. Love You, Errol"! He is no more, but his songs will live for eternity! May his gentle soul RIP!



© E Menon 2015
more from the English articles archive…

lĽal=\miyuM murLiyiel ravzńM
Lankalakshmiyum Muraliyile Ravananum
3`tafee6nI7M
Uthraada Kaineettam

Errol Brown, the Leading Vocalist of 'Hot Chocolate' Bids Farewell at 71
International Women's Day and Leslee Udwin's Documentary, 'India's Daughter'
Remembering our King of Music -- Raveendran Master's 10th Remembrance Day!
The Three-Day Diet that really works!
Send in Your Recipes & Requests

Remembering Jawaharlal Nehru on this day, 27 May 2015.
Good Friday -- the day the Son of Man was crucified on Golgotha!