NEW ON OMANA.NET...
TALK: Share opinions with other readers using the new Comments feature — now available for all articles.
SEE: New articles have related YouTube videos & clickable Pictures.
TASTE: Send in your recipes for the brand new Recipes section or try others' & give your 5-Idli™ rating.
FIND: You can now Search the site — use the search... box at the top of any page.




Malayalam Translation




INDIA FROM NEWS

(offline)


LATEST EDITION
Monday, June 13, 2016

An Evening of Sheer Pleasure: 'Yesudas Golden Nite in London'

Dr Elizabeth Menon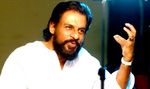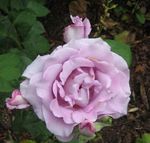 The Royal Festival Hall in London was blessed again by the presence of Padmabhusan Dr. K J Yesudas, the legendary Indian Carnatic Musician, Playback Singer and Composer. It was symphony of music, melody, rhythm and sheer magic -- how else could one describe an evening with the living legend, the 'Uncrowned King of Kerala'. the 'Gaana Gandharvan (Celestial Singer), whom we lovingly call 'Dasettan', who shot across the cultural landscape from the land of palm fringed beaches and stunningly beautiful backwaters of Kerala! 'Yesudas Golden Nite' on Saturday 21 May was organised by the Hartley College Past Pupil's Association (HCPPA, UK Branch) on the occasion of 'Naatha Vinotham 2016' in association with Darbar. Yesudas was accompanied on stage by Alka Ajith, Anita and few other artists. 'Lakshman Sruthi' from Chennai provided the live orchestra. Audience were also blessed to have the presence of Mrs Prabha Yesudas and Vinod Yesudas! Yesudas sung mostly Tamil songs followed by Hindi and a few Malayalam songs, and of course, the most scintillating segment of 'Musical notation with no language' by the Gandharvan! Alka Ajith was excellent and showed great promise and so did the other singers. Anita impressed the audience by the range in her beautiful voice. Yesudas was honoured on stage with a Ponnada and a Crown. There were small acts in between the songs, to the delights of the audience! The Executive committee of HCPPA and Darbar can be proud that they have organised a great function and I am sure all those attended the function would have wished them the best in all their ventures in the UK and Sri Lanka.

Yesudas started the magical evening with most popular Tamil songs that delighted the audience. Songs such as 'Kanne Kalaimaane', Amma Endrazhaikkathe and Athishaya Raagam brought deafening applause from the audience! These were followed by 'Alai Paayuthe, Daivam thantha veedu, Kalyaana Then-nila, Aantavan otta, Mahaa Ganapathim, Bommakkutti Ammaavukku, En Inya pon nilave, Kannurangu ponmayile nee, Nenje nenje maranthu vitu, Poongaatre poongaatre, Poongaavium pesumovium, Thenral kaatte, Kannukkum kannukkum, Yaarikku yaar swontham and many more. Alka and Anita performed duets withYesudas – 'Malare Kurinji malare' and 'Thenral Vannu' were greatly applauded by the audience. Yesudas sang the Malayalam classics that brought nostalgia to all the Malayalees in the audience, though they wished for more! They were mesmerised by the eternal classic 'Akale Akale' with Alka Ajith, 'Pramada vanam' and the devotional Ayyappa-sthuthi 'Harivarasanam' in closing, just as at the Shabarimala Temple! Alka's rendering of 'Akale Akale' with Yesudas was very close to the original! When Yesudas sung 'Pramada Vanam', I was reminded of the 'Year 1990', when that perfect beauty of a song, the song that caressed all your senses and more, 'Pramada Vanam Veendum' from the film 'His Highness Abdulla', was not chosen for the National Award that year! I will never forgive the judging panel and I am sure all those who love music would join me in that!

'Sixty thousand songs' to his credit and 'Seventy six summers' behind him, 'Gaanagandharvan' Yesudas still makes music that is so perfect in every which way -- words come to life, dancing to his every word, and sheer delight to the listener! The electrifying brilliance is such that even the seasons have sailed past, without as much as a glance! Quality of a song is proved when one wishes to hear that song time and time again, and the beauty of Yesudas's scintillatingly serene voice let that happen, gliding you to celestial bliss every time. It is 'Real Music' that is honoured when Yesudas gets an award, and our blessing to share the same world as him, feasting on his beautiful songs! Yesudas started his odyssey on 14 November in 1961, 54 years ago, with 'Jaathi Bhedam Mathadwesham…' and he is still creating magical haven for us with his celestial voice! It is sheer bliss every time one listens to his songs, and his voice is like the wine that gets more beautiful, stronger and divine as it gets older -- but, one is at a loss to decide which is better, the old songs or the new ones, because his new songs may appear better than the old and at the same time, the old ones appearing superior -- all because he still hasn't lost the magic of creating celestial music, powerful enough to captivate the listeners of all ages! He sang in Tamil for the first time for the film 'Bommai', but the first released film was 'Konjum Kumari'. He has recorded songs in most Indian languages, Malay, Russian, Arabic, Latin and English and has won seven National Awards for the Best Male Playback Singer and 43 State Awards, including five State Awards from Tamil Nadu and four from Andhra Pradesh. He was bestowed with the Padmasree in 1975 and Padmabhusan in 2002 by the President of India and he is a recipient of many more prestigious awards!

Yesudas has this unique power to bring out the beauty in any language, bringing people of different creeds, colours and nationalities under one roof. You remember when you first heard certain songs and therefore immediately nostalgic, whether you were there the first time round or experiencing the magic of these songs in their immediate context for the first time, you are in for a wonderful feast during his exhilarating performances. One can tell that one is about to experience something truly special, by the heart stopping silence that sweeps through the audience at his concerts. One feels that it would not make much difference what he sang, Malayalam, Hindi, Tamil, Telugu or any language, or 'Just musical notation with no language', as most of his power lies in his melodious voice and its range! He has a wonderful rapport with the players around him as well as the ability to sweep you off your feet and take you through a thick romantic mist to an altogether more beguiling place. He has performed in front of packed audience at the Royal Albert Hall, the Royal Festival Hall and other venues across UK, Sydney Opera House, France, Switzerland, Germany, Gulf States, USA and many venues in India.

Yesudas has given us songs for each of our emotions and more, caressing all our senses to last us a lifetime and beyond! It is his voice that most of us hear when we wake up and the last thing at night before we go to sleep! He is the 'Living God' for some of us and the gods are woken up and put to sleep by his celestial voice, like Shabarimala Sree Ayyappan! And it was rather fitting that Yesudas chose to wind up the magical evening with the Ayyappa devotional song, 'Harivarasanam'! As the Celestial evening came to an end, the audience felt as if they were brought back to earth suddenly, as the hours looked like minutes and they hoped that the 'Gandharvan' would make his appearance very soon!

©EMenon2016 (Email: liz@omana.net; Homepage: http://omana.net/)


more from the Corner archive…

FEATURED ARTICLE FROM THE ARCHIVES
Celebrating the Celestial Birthday on this day, 10 January 2016!
| | |
| --- | --- |
| by Elizabeth Menon | |
Celebrating the Celestial Birthday on this day, 10 January 2016!

Birthday Wishes to our 'Gaana Gandharvan', whom we lovingly call 'Dasettan'!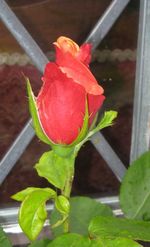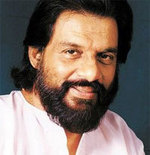 January 10th is always special for Malayaalees because that is the special day when Yesudas was born, on the day of 'Uthraadam' in the month of 'Dhanu'! Yesudas is the one who is blessed with the inimitable voice that is tuned by God Himself and Malayaalees and all those who love music celebrate our Gandharvan's Birthday – the seasons pass by without even a glance, while he stays young with a beautiful voice that is still at its zenith – perhaps to honour the words of the great Chembai Vaidyanatha Bhagavather on the 10th day of January years ago, "Innu Daasinte Muppathiyanchaam Pirannaalaanu ..."("Today is Das's 35th Birthday")! The most beautiful words of Rafeeq Ahamed from Rangith's film, 'Spirit', 'Ee chillayil ninnu bhoomi than koumaarakaalathilekku parakkaam..' in the Gaandharva Voice is the perfect example of what a 'Real song' should be – a song rendered in his 70s, and the song that one wants to hear again and again, gliding the listener to sheer bliss every time, as that voice is just heaven!


Most of us wake up to his beautiful voice and it is his voice that we hear before we go to sleep at night – his celestial voice is with us in our moments of happiness, most romantic and erotic moments, celebrations, sadness, and any other moment that one can think of! When Yesudas sings the melodies the listener gets the feeling that he is singing to that particular person only, caressing the inner core of that person – his voice has that inimitable magical quality, and still an enigma! Yesudas sings the meaningful words of ONV Kurup that ask the question the world over is dying to ask the 'Gaana-Gandharvan': "Parayoo Nin Gaanathil nukaraatha theninte Madhurima engane vannu...?"("Won't you tell us, how your songs got the sweetness of the 'Untouched honey"?!)
His voice still has the power to engulf the listeners in pure magic, gliding them to celestial heights – a voice that is vibrant enough to conquer all age groups, whether he is singing classical or light music, even after 55 years in the music industry. His dedication to his profession, strict diet and exercise, and of course the celestial blessing keep our 'God of Music' in eternal youth, with a magical voice to match!

It has been said that Yesudas sings in God's voice, and when asked about this, he told me, "Ellaavarkkum Daivathinte shabdamaanallo" ("Everyone has God's voice), showing his humility! But I would say, "His voice has a 'God-like quality'! It is not just one of the most beautiful voices in the world, it is pure enough to make you think of walking on dry snow when the sun is shining ('Ottakkampi Nadam Mathram') or perhaps the smooth bubbling of cream and melting chocolate, dripping with honey ('Chandana lepa sugandham', 'Chandanacholayil', Ponnil kulichu ninnu'), or exotic enough to remind us of the most beautiful paintings of Raja Ravi Varma that has the exquisite magical touch to take you to the most erotic planes ('Poykayil', in the film Rajashilpi). or the most powerful songs that even challenge the sound waves ('Hari Muralleeravam',
'Gange', 'Padha Smarana sukham',etc!)

Something special happens even when he sings very ordinary songs -- words come to life and songs become classics, writers and their lyrics reach immortality through his voice, music directors become legends and listeners are blessed! Yousafali Kecheri has written the poem, 'Yesudas', and has dedicated a song, "Thenaanu Nin Swaram Paattukara, Poovaanu Nin Manam Koottukaara"; even the great Vayalar Rama Varma has written a song for his, 'Yesu', which shows the greatness of this musical legend! 

The most delightful, "Chillitta vaathilil vannu nilkkaamo ... melle thurannu tharaamo …", words of K Jayakumar IAS ('Chandanalepa Sugandham'-fame'!), is a true 'Heart-stopper' and seduction at its best in Yesudas's most alluring voice and I was hooked the first time I heard it years ago – I couldn't believe that somebody could use such simple words and create something that is so enchanting, and of course, the celestial voice brought the words to life!

I feel that we can all empathize with the beautiful words of K Jayakumar that dance to Yesudas's most seductive voice, touching our innermost senses – perhaps an 'Anthem' for Malayalees!

"Ormmayil Kaanunnathee Mukham Maathram
Jeevanil Cherunnathee Swaram Maathram
Kelkkunnathellam Sukhamulloreenam
Viriyunnathellam Neerunna Mounam
Hrudayam Thetunna Thaalam
Sukritham Pookkunna Kaalam…" (Film: 'Uthram oru Nakshathram')




"May all your dreams be showered with Celestial blessings and may you reign forever" – you or your voice will never grow old because you are blessed, and have the love and prayers of millions of admirers!

"May green be the grass you walk on, 

May blue be the skies above you, 

May pure be the joys that surround you, 

May true be the hearts that love you"

(Irish Blessing)









Few songs:
"Ee chillayil ninnu ... from 'Spirit: https://www.youtube.com/watch?v=HV5c7pjelcE: words of Rafeeq Ahmed, to the music of Shahabas Aman

"Ormayil ...": https://www.youtube.com/watch?v=f-eU6dxNiWU: K Jayakumar and Sunny Stephen

'Chandanacholayil mungi neeraadiyen ...': https://www.youtube.com/watch?v=kujJUU8HfPI

'Ponnil kulichu ninnu ...': https://www.youtube.com/watch?v=REkluyqjsas

and 'Paadha smarana sukham': https://www.youtube.com/watch?v=iPRydlvT6vY, from the film, 'Sallaapam'(1996), Kaithapram and Johnson

"Chillitta Vaathilil...": K Jayakumar and Jerry Amaldev
'ennum chirikkunna suriyante": SKT and Raveendran

"Hari muraleeravam..."-Live: https://www.youtube.com/watch?v=eVI7GsVGaMg&list=RDeVI7GsVGaMg: Gireesh Puthencherry and Raveendran
'Pramadavanam...'-Live: https://www.youtube.com/watch?v=W_Dm84VwHZc&index=2&list=RDeVI7GsVGaMg: Kaithapram and Raveendran



© E Menon 2016
more from the English articles archive…

l¼al=\miyuM murLiyiel ravzñM
Lankalakshmiyum Muraliyile Ravananum
3`tafee6nI7M
Uthraada Kaineettam

Celebrating the Celestial Birthday on this day, 10 January 2016!
Congratulations to Yesudas who won the Kerala State Award for the Best Singer
Remembering Jawaharlal Nehru on this day, 27 May 2015.
The Three-Day Diet that really works!
Send in Your Recipes & Requests

An Evening of Sheer Pleasure: 'Yesudas Golden Nite in London'
Remembrance Day of Gandhiji, Father of Our Nation!
The Legendary British Pop Star, David Bowie, the Stardust-man of Multicolours died on this Sunday (8.1.1947-10.1.2016)