NEW ON OMANA.NET...
TALK: Share opinions with other readers using the new Comments feature — now available for all articles.
SEE: New articles have related YouTube videos & clickable Pictures.
TASTE: Send in your recipes for the brand new Recipes section or try others' & give your 5-Idli™ rating.
FIND: You can now Search the site — use the search... box at the top of any page.




Malayalam Translation




INDIA FROM NEWS

(offline)


LATEST EDITION
Monday, September 01, 2014

Kerala Government's Decision to Ban Alcohol in Kerala!




Kerala government has decided to close all 730 bars in the state, allowing only five-star hotels to have the bars from April 2015 – 418 bars have been closed already since April and licence for the 312 bars will not be renewed after 31 March2015. Kerala State Beverages Corporation (KSBC) runs 337 liquor shops, open seven days a week, each liquor shop catering for around an amazing 80,000 clients also would be phased out! Kerala consumes 16% of India's total liquor and has the country's highest per capita consumption of alcohol at 8.3 litres per year taking over that of Punjab and Haryana, and double the national figure of four litres/year! It is estimated that more than 40% of revenue come from alcohol, both from KSBC and private sector! One must understand here that the per capita consumption rate of 8.3 litres/year is calculated in relation to the total population that includes women and children, most of whom do not consume the stuff and therefore, the actual rate would be even much higher! It is then, not surprising that the incidence of liver failure following cirrhosis liver is rather high, and not to forget domestic violence and alcohol related divorces! Alcohol in excess is detrimental for health and there is no argument against its ill effects, but closing the bars in hotels or ban on liquor is not the answer for that -- this would only increase the flow of illicit toxic liquor into the community, which would cause blindness and death!

Domestic violence, suicide and poverty due to excessive drinking is another side of the coin, but a ban will not stop it, as those who need the drink will find the toxic liquor from back-streets, which would be more dangerous -- the buyers and the sellers going underground! People should be made aware of the dangers of excessive drinking -- a glass of wine a day is accepted to be good and the incidence of heart disease is known to be less in Italy where people do have a drink with their meal, but that does not mean that one should drink it like the cattle do -- a drink is meant to be sipped slowly and not drink in one gulp as shown in some films! The awareness among people to drink in moderation is what is needed and to avoid drinking the illicit toxic drink that can cause all sorts of damage, and also to avoid drink-driving!


There are lot of people around the world, even among the elite and high-society who do not drink, but it is quite the done thing to have a drink with one's meal, or during a social occasion, which does not make one an alcoholic! And there are few who like a shot of brandy or whiskey in the evening and they too would find it difficult to get it or be forced to buy it in the black market, and these people also are not alcoholics! We are living in the 21st century, and we should be aware of the financial aspects too, as money for the public services do not drop from the sky; the revenue comes from all sorts and tourism makes a big part! Most tourists would like to have a drink when they are on holiday and when they know that they can't have a drink, they would think twice before coming to Kerala – students and people on a budget form the majority of tourists who couldn't afford the 'Five-star facilities'! And also the Government needs money for education, salary, pension, etc and they would have to increase the tax or the price of commodities to raise the money for its functioning, or cut back on benefits, and eventually the people will have to bear the brunt of it all. These are some of the facts one need to consider before barging on a scheme like putting a ban on alcohol! People work very hard all their life and it is the Pension, Provident fund, etc, that give a bit of comfortable living once they retire and that should never be touched, and even thinking about stopping these is unpardonable!

There are so many other things that the government should be spending their time, like protecting women and children from the rapists and trafficking, stopping corruption, implementing the existing law of wearing seat belts by all passengers in a car and helmets for the two-wheelers to prevent deaths, improving roads, increasing old age pension, providing benefits for the disabled, etc! I don't want anyone to think that I support the 'Liquor lobby': 'I don't', and I don't drink either! It is ideal if one could avoid all that is harmful, but we don't live in an ideal world, and one should know one's own limitation ("Man must know his limitations', as in the famous quote!) and learn to stop when that limit is reached – drinking in moderation, unless alcohol is medically advised against, should be the motto for those who like a drink! The public also should take some responsibility for their welfare and seriously think about curtailing their desire to get immersed in alcohol or go on a binge at weekends or during festivals! It is the public awareness regarding the hazardous aspects of alcohol that should be promoted and not a 'Ban on alcohol', which will have dire consequences at various levels, including the increase in the underground selling of illicit toxic alcohol that kills, bringing on death and blindness on a massive scale, while those with money buying the stuff in the black market!! Ban is not the answer, which will only flourish the black market and the sellers in the Underground and one needs to think logically about all aspects before bringing on the 'Ban'!
more from the Corner archive…

FEATURED ARTICLE FROM THE ARCHIVES
Richard Attenborough Bids Farewell (1923-2014)
| | |
| --- | --- |
| by Elizabeth Menon | |
Richard Attenborough Bids Farewell (29 August 1923 - 24 August 2014)














Lord Attenborough, the great British actor, Oscar-winning director, President of BAFTA (British Academy of Film and Television Arts), President of the Royal Academy of Dramatic Art (RADA) and former Chairman of BFI (British Film Institute), died at noon on Sunday, 24 August, aged 90. He was Knighted in 1976 and was made a Life Peer in 1993, which was bestowed on him by Queen Elizabeth11. His first break in a major Hollywood film was in 1963, with 'The Great Escape' as RAF Squadron Leader Roger Bartlett (Big X). He won the BAFTA for Best Actor in 'Guns at Batasi (1964) and was the Golden Globe Winner for two consecutive years, in 1967 for 'Sand Pebbles', and 'Doctor Dolittle' in 1968! But he is best known for his highly acclaimed, Oscar-winning epic, 'Gandhi' (1982), which took 20 years to make that starred Ben Kingsley as 'Mahatma Gandhi', winning him two oscars, as the best Director and for the best picture as the film's Producer -- the film went on to receive eleven Oscars! He had served in the Royal Air Force during the Second World War. His brother is the best loved Naturalist, David Attenborough, whose Nature Programmes continue to amaze people around the world! Richard Attenborough was 'Dickie' to friends, but born, Richard Samuel Attenborough in 1923 in Cambridge.

(The best loved and equally famous Attenborough Brothers, Richard and David!)







He started his acting career in films in 1942 in Noel Coward/David Lean film, 'In Which We Serve', Graham Greene's 'Brighton Rock', which was followed by 'London Belongs to Me' (1948), 'Morning Departure' and 'The Flight of the Phoenix" (1965), 'The Sand Pebbles'(1966) and "Doctor Dolittle" (1967) He achieved international recognition for his starring role in 'Jurassic Park', and Kenneth Branagh's 'Hamlet'(His only appearance in a film adaptation of Shakespeare), as Jacob in 'Joseph and the Amazing Technicolour Dreamcoat' and Shekhar Kapoor's 'Elizabeth' in 1998, to mention a few! He had also acted in the West End production of Agatha Christie's 'The Mousetrap', that opened in 1952, which is now the longest running drama in its 62nd year, still running at the St Martin's Theatre, a simple drama, but the most amazing show that makes one watch sitting on the edge of one's seat – Richard Attenborough and his wife, Sheila Sim were among the original cast at the 'Ambassador's Theatre' when it first opened in 1952! He has also acted in Satyajit Ray's 'Shatrang ki Khiladi' ('The Chess Players'), as a Scottish Army General in 1977! He has also produced films, 'The Angry Silence'(1960) and Whistle Down the Wind' in 1961, and of course, the biggest production was 'Gandhi' (1982)that he directed as well, wining two Oscars, Best Picture and best Director! He was the Chancellor of the University of Sussex for 10 years (1998-2008), and headed many charity organizations.









His directorial debut was in 1969, with 'Oh! What a Lovely War', a musical satire set during the First World War, followed by 'Young Winston' (1972), showing the early years of Winston Churchill's life, 'A Bridge Too Far' (1977), a wartime epic. Magic (1978) starring Anthony Hopkins as a deranged ventriloquist, which proved that he could make thrillers too! Then followed many films such as 'Cry Freedom'(1980) a critical appraisal on apartheid, based on the life of South African activist Steve Biko, and the biographical films, 'Chaplin' (1992), starring Robert Downey Jr as Chaplin; 'Shadowlands '(1993) with Anthony Hopkins, based on the life of C.S. Lewis; 'In Love and War (1996), a First World War love story about the young Ernest Hemingway, with Sandra Bullock and Chris O'Donnell and 'Closing the Ring' in 2007, starring Shirley MacLaine, Christopher Plummer, Pete Postlethwaite, Martin Mac Cann and Brenda Fricker.

The most beautiful, heart-wrenching, 'Closing the Ring' was to be his last film and I feel blessed to have been in his presence for the preview of this beautiful film, 'Closing The Ring' 
at the 'The Times BFI 51st London Film Festival' in 2007 and could write a review -- that was the last time I saw him! 'Closing the ring' is one of the most beautiful films I have ever seen, which is about the value of love and the loss of it, inability to grieve, loyalty among friends and above all, the heartache and suffering brought on by war. Shirley MacLain and Christopher Plummer have excelled in their performance. Christopher Plummer showed his adoring fans that he could still win hearts, just as he did all those years ago as the handsome captain in 'Sound of Music'! 'Jimmy' (Martin Mac Cann) was a delight to watch along with the great actor Pete Postlethwaite (Sadly Pete died on 2 January 2011 aged 65 – may his soul RIP) Richard Attenborough showed us in this film that there is no shame in falling love and keep it live, no matter what your age is. 'A film that touches your heart and tells you something', that's what 'Closing the Ring' does and therefore, an example of good cinema truly at its best! Question & Answer time with Lord Attenborough after the screening was sheer delight, and he talked about love and the agony of loosing it. He also said that he would love to be remembered as 'A Story Teller'!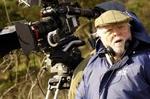 (Richard Attenborough with Pete Postlethwaite at the preview in 2007)














He had a great passion for films and everything else in his life and the Cinema in Britain and around the world could learn a few things from the great man's work! Richard Attenborough is truly the 'Titan of British Cinema', and we will miss him – he is no more with us, but his epic films like 'Gandhi', 'Shadowlands', 'Cry Freedom', etc will be with us for eternity. My thoughts are with David Attenborough and the other family members! But, his last film, the ever so heart-wrenchingly beautiful film, 'Closing the Ring' leaves me with an ache in my heart! And we will remember you as the 'Story Teller', as you wished, Lord Attenborough! May you RIP!


© E Menon 2014
more from the English articles archive…

l¼al=\miyuM murLiyiel ravzñM
Lankalakshmiyum Muraliyile Ravananum
3`tafee6nI7M
Uthraada Kaineettam

Richard Attenborough Bids Farewell (1923-2014)
Remembering Mohamed Rafi, the one with the Golden Voice!
Rishi Raj Singh IPS, No More the Commissioner of Transport!
The Three-Day Diet that really works!
Send in Your Recipes & Requests

Kerala Government's Decision to Ban Alcohol in Kerala!
Michael Jackson at the 'Roundhay Park' in Leeds, England, 26 Years ago!