NEW ON OMANA.NET...
TALK: Share opinions with other readers using the new Comments feature — now available for all articles.
SEE: New articles have related YouTube videos & clickable Pictures.
TASTE: Send in your recipes for the brand new Recipes section or try others' & give your 5-Idli™ rating.
FIND: You can now Search the site — use the search... box at the top of any page.




Malayalam Translation




INDIA FROM NEWS

(offline)


LATEST EDITION
Tuesday, March 03, 2015
Remembering our King of Music -- Raveendran Master's 10th Remembrance Day!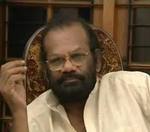 It is with great reverence that music lovers remember Raveendran Master and the music he has left behind! He bid farewell to us on 3 March 2005 – ten years have passed since we lost this great Master of Music, and the towering strength of his vibrant music makes him the greatest of all! Every time I hear one of his songs my heart weeps for the inimitable music he would have composed, if destiny didn't take him away from us much before his time! His music has a 'Signature Style' of his own, unparallelled so far, and I am sure it would remain so for eternity – 'Raveendra Sangeetham', as we call it, is what dreams are made of that glides you through the softest melodies reaching the zenith, beyond the celestial planes! The heart-wrenching melody from the film 'Madhura Nomparakkaattu', written by ONV, 'Katha Paranjurangiya Kaananakkuyile paattu marannoree Nomparakkilikkoru gaanam pakarnnu tharoo...', in Yesudas's phenomenal voice laden with all the grief in the world is just one example of Raveendran's inimitable brilliance!

He had a great voice too, and I can almost hear him sing, "Shruthi Amma Layam Achen Makalute pero Sangeetham' from the film 'Madhura Nomparakkaattu'! He was Ravi Kumar's voice for around seven years, before he eclipsed into Music Direction! His musical voyage started with the film 'Choola' in 1979, spanning over more than 150 films, festival songs, Vasantha geethangal and Devotional songs, finishing with two films, 'Kalabham' and 'Cholliyattam,' both of which were released after his demise! Sathyan Anthikkaadu wrote the words for the beautiful song from 'Choola' – 'Thaarake Mizhiyithalil Kanneerumaayi…' hit the sound waves like a rocket and it was like something nobody has ever heard before, and 'Raveendra Sangeetham' was born, eclipsing all else! I am reminded of how Freddie Mercury's(Queen) 'Bohemian Rhapsody' hit the airwaves in 1975, like an explosion!

'Thaarake Mizhiyithalil', in Yesudas's heart wrenching voice was just a celestial sample to tickle the taste buds of the Malayalam Music World, and then on, it was 'Maamaankam' till the very end, and beyond! 'Thenum Vayampum' followed, with 'Ottakkampi Naadam Moolum', by Yesudas and his voice was such that the song reminded the listeners of walking through dry snow when the sun is shining! Raveendran was the first music director to bring the Classical, Hindusthani and the Light music together, bringing out the strength, tone and the beauty of all – 'Ennum chirikkunna Suriyante and Uthraatappoonilaave vaa', written by Sreekumaran Thampi and immortalized in Yesudas's celestial voice, are few such examples! 'Gange' from the film 'Vatakkum Naathen', 'Hari Muraleeravam' from 'Aaraam Thampuraan', 'Ramakatha' from 'Bharatham', 'Pramadavanam' from 'His Highness Abdulla', 'Sreela Vasantam' and 'Gopike' from 'Nandanam' challenged the sound waves beyond human capabilities, which will always remain as a tribute to the great Music Director Raveendran, who astonished the music world by his breath-taking signature style. Only Raveendran could produce music that could take Yesudas's voice to reach up to the zenith of sound barriers and beyond, as he alone had that magic – it was summation of talents!



Raveendran created a musical haven for Malayaalees, creating music with the help of P Bhaskaran (Venkalam…), Sreekumaran Thampi, (Ennum chirikkunna Suriyante, Uthraatappoonilaave vaa, Mutippookkal Vaatiyaalenthomane, Oru nullu kaakkappoo), Bichu Thirumala(Thenum Vayampum, Maamaankam,Valampiri shankhil, Ezhu swarangalum, Nizhalaay, Leelathilakam,etc), ONV Kurup (Poykayil, Kaaveri paatamini), Kaithapram (Raamakatha, Gopika vasantham, Enthinu veroru Sooryodayam,Vennakkal kottaara vaathil,etc), Yousafali Kecheri (Aantholanam, Samgeethame..), Gireesh Puthencheri(Hari Muraleeravam, Sreelavasantham, Gange, Kalabham tharaaam, Pularkaala sundara, manjakkiliyude, Etho nidrathan, Hemambari…), Rameshan Nair (Devasandhya, Snehikkaan..) and many more!

He is no more, but his presence is always there in our hearts, and not one day goes by without his songs vibrating the airwaves! The wonderful magic he has produced, the unusual Ragas he has used will always be a challenge for the current and future generations! The power surge that is felt whenever 'Raveendra Sangeetham' is played is beyond human perception -- and when that music is complimented by the celestial voice of Yesudas or Chithra, it is sheer heaven for music lovers anywhere, and the language is no barrier! Raveendran's music is something that one takes notice sitting up – his music is such that it touches all your senses and beyond! We remember Ravvendran Master today, more than every other day, and my thoughts are with his wife, Shobha, his sons, Naveen, Rajan and Sajan. We have his inimitable music, ranging from soft melodies like, 'Mutippookkal Vaatiyaalenthomane' (SKT) to the mind-blowing 'Hari Muraleeravam and 'Gange', to make our days blissful – and it is only fair that I think of Gireesh Puthencherry too, who left us on 10 February 4 years ago, who wrote the last two songs mentioned, and many of Raveendran Master's classics! May their souls rest in Peace!
©EMenon March2015

Just a few of my favourites – I could go on with the list though!
https://www.youtube.com/watch?v=KN6KdZ0Jy4w (Mutippookkal Vaatiyaalenthomane..": Sreekumaran Thampi)
https://www.youtube.com/watch?v=Lpj6aSLTcfU Ramakatha: Bharatham: Kaithapram and Raveendran)
https://www.youtube.com/watch?v=Anusi9aiu38 (Ennum Chirikkunna Suriyante: Sreekumaran Thampi)
https://www.youtube.com/watch?v=RbqWDGcMuJI
https://www.youtube.com/watch?v=yT8GNDEDKps (Hari Muraleeravam: Aaraam Thampuraan: Gireesh Puthencherry)

https://www.youtube.com/watch?v=MkRPpFk3f3o (Gange Thutiyil: Vatdakkum Naathen: Gireesh Puthencherry)
https://www.youtube.com/watch?v=6BaEjW1trqs

https://www.youtube.com/watch?v=ZSH2qMthTOs
https://www.youtube.com/watch?v=ZQE9ncqe2jE ( Sumuhurthamaayi Swasthi: Kamaladalam

more from the Corner archive…

l¼al=\miyuM murLiyiel ravzñM
Lankalakshmiyum Muraliyile Ravananum
3`tafee6nI7M
Uthraada Kaineettam

Dr Rajagopal, Chairman of 'Pallium India', Honoured with the 'Alison Des Forges Award'
'Post Onam Blues' and its Cure!
The Three-Day Diet that really works!
Send in Your Recipes & Requests

Remembering our King of Music -- Raveendran Master's 9th Remembrance Day!
Medical Miracle: Paralysed Man Walks Again
Kailash Sathyarthi from India and Malala Yousafzai from Pakistan win this years 'Nobel Peace Prize'